Sailor Moon Crystal Dice Challenge is a stand-alone game that uses the rules and format of Cheapass Games' newest edition of Button Men. While it has it's own distinct feel and rules beyond Button Men, the two games are completely compatible.
[Rather than go through all the gameplay mechanics here, go read our review of the new Button Men HERE! We'll wait. -dc]
.
.
.
[Everyone back? Are you up to speed? Great, moving on. -dc]
So, on top of the basic die vs die, capture, and then reroll, mechanics from Button Men, each Sailor Moon Crystal character has their own unique ability that can have an impact on the game. For example, Sailor Moon can use her Planet Power to gain an extra turn, while Luna & Artemis can use Command Center to reroll their dice before an attack. All together the game includes 24 characters from the Sailor Moon Crystal series, covering the Dark Kingdom and Black Moon arcs from the first two seasons of the series, and if things go well they may release an expansion with characters from the third season's Infinity Arc. The only exception to that is the preorder exclusive Sailor Pluto card. It doesn't come in the main box and is a free bonus when you order preorder.
One of the interesting notes about this game is that it is truly embracing its history as a "portable social game." As I mentioned in our Button Men review (the one you just went and read above, right?), Button Men started as a game that people could easily play at conventions and other big gatherings. You would see someone else wearing a character button, and challenge them to a short game. Sailor Moon Crystal Dice Challenge follows that inspiration and comes with a pair of lanyards and set of challenge cards so you can display your interest in a game while you walk around whatever event you are attending.
This isn't actually a Kickstarter campaign. This game is happening, and it's already at the printers. Since the license to produce this game was announced by the Dyskami Publishing Company, they have been inundated with requests for the final product. Dyskami used a Crowdfunding Theme for WordPress that looks so close to Kickstarter that a LOT of people, including me, have mistaken it for a crowdfunding campaign, but this is 100% a pre-order and the game is happening. When you order can get a single copy of the game for $35(USD), two copies for $65, and additional copies for $30. Shipping is surprisingly low, but due to the licensing agreement with Toei Animation, they are only allowed to ship it to Canada and the United States. Each preorder copy of the game also comes with the Sailor Pluto promo card as well as a beautiful Sailor Moon Crystal Dice Challenge poster. On top of the promo items, the folks who preorder will have their games shipped out well before the game is sent out to retail stores.
This isn't the first time that Sailor Moon and her allies have crossed paths with Button Men. Back in 2000 Dyskami Publishing's founder Mark MacKinnon had just published the Sailor Moon Role-Playing Game, when he approached James Ernest at Cheapass Games about co-designing a set of Sailor Moon Button Men characters, which soon spawned a second set of characters as well. Eventually, Mark and James reconnected to discover they were both interested in relaunching Button Men, and Sailor Moon Button Men. But this isn't just a copy of the original Sailor Moon Buttons printed on cards, all the characters have been adjusted, tweaked, and rebalanced, to create a whole new experience compared to anything else in Button Men's history.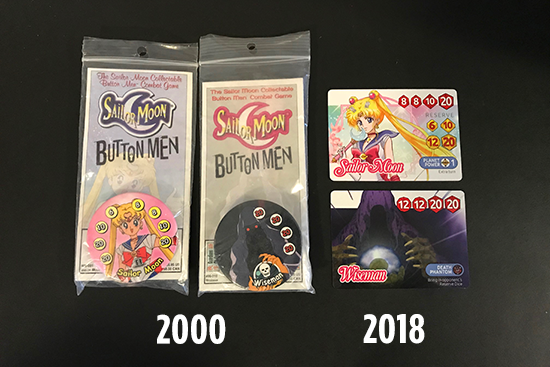 This game comes from a great pedigree and was born out of an honest love for both Sailor Moon and Button Men. I can't help but be a little excited for this game to start making its way into the world, and more importantly into my collection.
You can Preorder Sailor Moon Crystal Dice Challenge until March 8, 2018!
You can learn more about the Dyskami Publishing Company on their website dyskami.ca or on Facebook at facebook.com/dyskami
There is an entire website dedicated to Button Men at buttonmen.com that Cheapass Games is in the process of updating with all the current incarnation's information, including for Sailor Moon Crystal Dice Challenge.